John Kimpel's Curriculum Vitae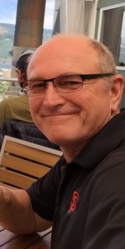 John Kimpel Certified Inspections
jfkimpel59@gmail.com 2088 Benton Loop
Roseville
95747
Phone: ( 916) 717.5519
Fax: ( )
Career History
1977-2016 Career as a flooring inspector, Installation and customer service manager, installer in Residential Carpet, Commercial Carpet, Hardwood Prefinished and Sand/Finish, Resilient Flooring, Laminate Flooring, VCT installations, LVT Plank Installations and Ceramic tile

2016-present John Kimpel Certified Inspections, Independent Flooring Inspector, Roseville Ca.
2014-2016 Asst. Production Manager/Field installation Manager Sacramento Ca. Inspect and advise to corrections for Romanoff flooring
2009-2014 Merchandise manager, Asst. General Manager, Project Manager, Sales/Design Consultant HD Supply/Home Depot, Sacramento Ca.
1994-2009 Customer Service Field Technician, Field Service Team Manager, PMK (Person most Knowledgeable) Company inspection/analysis advisor Flooring/Tile Production Manager- Grand Floor Designs/Creative Touch Interiors(A Home Depot Company)
1989-1994 President Specialty Floors Roseville Ca. (Labor Installation shop) (sold Business)
1985-1989 President S&J Specialty Floors Inc. Rocklin Ca. (Wholesale sales/Labor Business)
1980-1985 Working Partner Tim's Floor Covering, Concord Ca.
1977-1980 Tim's Floor Covering Installer (Commercial/Residential)(carpet/Hard surface)
1975-1977 Floor Covering installers Helper- Campbell's Carpets, Concord Ca.
Certifications
Additional Certifications
ISSI- Sub Floor and Substrate Inspec tor from IICRC
Formal Education


Sierra Collage Architecnical Design/Drafting Rocklin Ca. 1987-1989
Local Union 1267 Apprentice program Oakland Ca. 1977-1980
Concord High School, Concord Ca. 1977
Industry Training Seminars
2016 IFCI inspector training for carpet inspections
2016 IICRC Carpet Cleaning and restoration- Inspector training
2016 IFCI Laminate Inspector training
2016 IFCI Hardwood Inspector training
2016 IFCI Resilient flooring (Vinyl) inspectors training
2016 IFCI Luxury Vinyl Plank/Tile inspectors training
2008 Mohawk Installation Site school for installation
2002 Concrete Testing Laboratories (Skokie IL) Flooring Moisture training
2002 IICRC School of Technologies- ISSI Sub-floor substrate inspector
2005 Anderson Hardwood duck seal installer and master trainer
2004 Anderson University Hardwood Master Installer
2003-2009 Para-chem Adhesive/sealers testing field analyst
2002 Shaw Master installer courses
2002 Mohawk Industries Master installer courses
2001 Quick step laminate training and self inspection training
1999 Floor covering installer training course CFI
1977-1980 Union Flooring Journeyman installation training program

Industry Association Memberships
IICRC, IFCI,
Commercial Sites Inspected
Cities Inspected